Ireland's Digital Economy Powers Ahead

thehostingpool.com review of digital business in Ireland
Based on the data in two reports in 2021 from the .IE and Comreg, Ireland's digital economy continues to thrive and grow and with it, by default,  the growth in Irish domain names
One of the major finding in the .IE report was that 330,108  .ie domains were registered in the IEDR database at the end of 2021, a 6.5% increase on 2020.
The pandemic of course also had a bearing on these figures with new .ie registrations increasing 24% in 2021 in comparison to pre-pandemic year of 2019.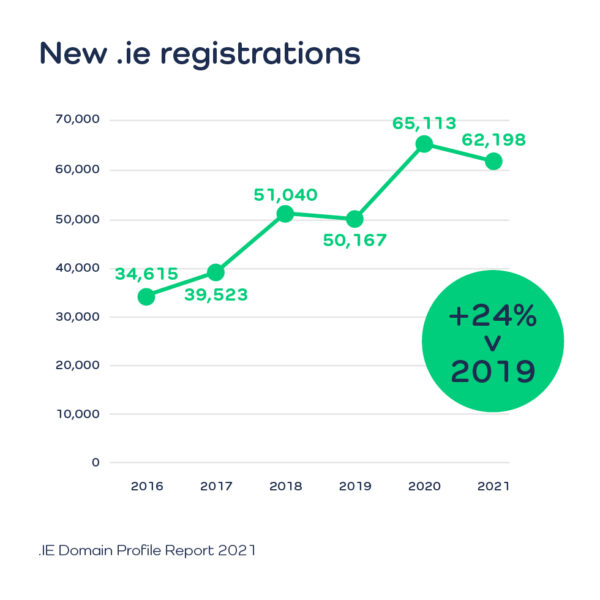 These figures would seem to reflect the economic direction the country was heading in at that particular point.
For example, when the  lock down happened in 2020/2021, physical shops had to close. Thus, in order to stay trading, many businesses had no option but to set up online sales websites.
Even prior to the pandemic the Irish population was gravitating online in ever greater numbers.
According to the Irish Examiner, eCommerce sales were already up 17% in 2019 as Irish consumers were seeing the benefits of shopping more flexibly online.
As one of Ireland's leading hosting providers and domain registration companies, we have extensive experience at getting small business up and running online.
At thehostingpool.com we are at the front line when it comes to registering Irish business websites.
We see more and more Irish businesses building eCommerce shops, and also more people working from home.
Theses two factors are the primary drivers of the growth in .ie registrations
If you want to tell the world you are an Irish business then the .ie registration is what you should be using as your online brand mark.
.ie is the most popular domain in Ireland with it accounting for 52.6% of all website domains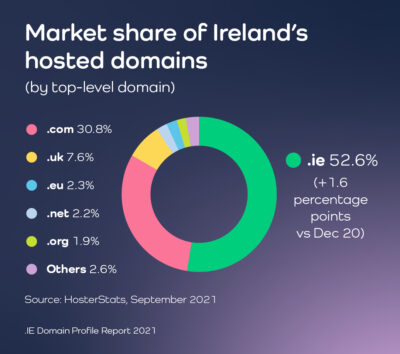 At thehostingpool.com we can provide you with the tools for your business to thrive online.
We register .ie domains – (check here to see if yours is available), we host websites, we build websites, we promote them and most importantly, we provide you with HUMAN support whenever you encounter a problem.
So why not secure your .ie web domain today.
Currently there are 330,108 registered in Ireland.
Make yours the next one!